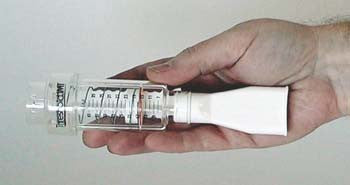 Threshold® -- Inspiratory Muscle Trainer (Model 64485)
Increase Your Aerobic Capacity !

Calibrated, Spring-Loaded Valve
 
Adjustable pressure, 7 - 41 cm H2O
 
Maximizes Training Effect
 

Ensures Consistent Training Effort
Boost your performance! Increase your endurance! ...And do it without leaving the comfort of your easy chair! Just inhale through the Threshold® Inspiratory Muscle Trainer... Studies show that training at 30% of maximal inspiratory pressure for two months will increase max. inspiratory pressure, improve endurance time, and increase the distance walked in 12 minute trials.
The Threshold® Inspiratory Muscle Trainer (IMT) provides a constant and specific training workload, regardless of how fast or slowly you breathe. The adjustable (and calibrated) spring-loaded valve blocks air flow until you can produce enough inspiratory pressure to overcome the spring force. Inspiration muscles work harder and get stronger over time.
The IMT is easy to use. With the mouthpiece removed, twist the control knob so the indicator points to a low pressure number (around 10 is a good starting point for most people). Use the nose clip (included) to insure that you are breathing entirely through your mouth. Start training at 10 to 15 minutes a day. If your current setting is too easy, increase the setting to the next calibration mark. (The calibrated IMT is marked every 2 cm H2O from 7 to 41.) After a while (6 to 8 weeks) you will notice a training effect --  What you can now do is much more than what you could do initially!
The IMT is also very easy to care for... just rinse in warm soapy water. Flush with clear water. Shake out excess water, and air dry.
The calibrated IMT (Threshold® Inspiratory Muscle Trainer) is made in the USA and costs less than half as much as a widely advertised inspiratory trainer that is imported. Further, the imported trainer is not calibrated -- it only has indicator marks referring to high, medium and low settings. So why pay more and get less? Buy the Threshold® Inspiratory Muscle Trainer. Ship wt 2 lbs.
---
Share this Product
---
More from this collection