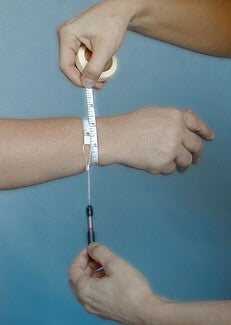 Gulick II Tape Measure (Model 67020)
Prices are reduced for the following quantities: 5-9, 10-49, 50-99, 100-149, 150-249, and 250+  (To see your price before entering the quantity to put in your cart, adjust the box just under the price.)
(For our Military customers... please call for special discounts)

For Accurate Body Measurement
Insures Repeatable Measurements
Enables Consistent User-independent Measurement

Individually calibrated!

Compression Spring lasts a lifetime -- won't stretch
The Gulick II Tape Measure makes it easy for anyone to accurately and repeatably measure various body dimensions. It eliminates the guesswork by applying a known amount of tension to the measuring tape. When used properly, tape tension is always four ounces -- accurate measurements are possible no matter who is doing the measuring.
If an ordinary tape measure (without our proprietary tension indicator device) is used, the measurement will depend on how tightly the tape is pulled. If you pull harder and harder, tissue compression will be greater and greater, and the measured circumference will become smaller and smaller. Two consecutive measurements are usually quite different. If two or more people take the same measurement, the results rarely agree. It is clear that only by applying a constant tension (as all the Gulick II Tape Measures do), can accurate and repeatable measurements be taken.
The Gulick II Tape Measure uses a fiberglass no-stretch, retractable tape with both Metric and English gradations (centimeters and inches). The tape is 5/16 inch wide and 72 inches long. The tape is not metallic to avoid the discomfort of a cold object touching the skin and to eliminate any possibility of scratches or cuts. The self-retracting tape is kept at the desired length until the retract button is pushed.
The most important part of the Gulick II Tape Measure is its tensioning device, which provides a known amount of tension while a measurement is being taken. Each individual tensioning device is calibrated to our factory standard. The Gulick II uses a stainless-steel compression spring -- this guarantees that the calibration will last a lifetime, since it is impossible to "over-compress" a spring of this type. And since this precision spring is made of stainless-steel, it will never rust or corrode -- again insuring the accuracy of the Gullick II Tape Measure for a lifetime!
The Gulick II is easy to use... Pull an appropriate amount of tape out of the housing. Wrap the tape once around the body part to be measured. Align the tape's "zero line" along side of the tape graduations. (Use the Metric or English units as desired by turning the tape over.) Now simply pull on the end of the tensioning mechanism until the calibration mark is just seen. Read the measurement next to the tape's "zero line". It's just that simple! Ship wt. 2 lbs.
---
Share this Product
---
More from this collection