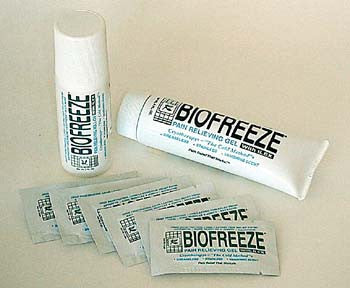 BIOFREEZE -- Professional Pain Relief that works!
(with ILEX -- a South American Herbal)
HELPS RELIEVE:
Back & Neck Pain
Hip and Leg Pain
Shoulder-Arm Pain
Muscle Spasms
Painful Joints
...and pain from:
Arthritis/Tendonitis
Sports Injury
Strained Muscles
BIOFREEZE® relieves pain by creating a cooling sensation within the skin. Because it contains the South American herbal ILEX, users report a deeper, longer lasting pain relief than conventional cooling gels. The cooling effect increases healing through relaxation of stiff and aching muscles.
Most users report that after an initial cooling sensation, they feel a gentle, deep-penetrating warmth with greatly reduced pain, or no pain at all. Though not a "cure in a bottle", BIOFREEZE® does soothe sore muscles, allowing the body to heal itself more readily.
Those who benefit the most from its use are those who suffer from back pain, muscle spasms, arthritis and tendonitis. BIOFREEZE® is preferred by weight trainers, professional athletes, sports enthusiasts, those who have a tendency to overuse or misuse their muscles.
Many Health Care Professionals recommend that their patients use BIOFREEZE® for maximum pain relief between office visits.
---
Share this Product
---
More from this collection